Funding for Reading 
by Nora Chahbazi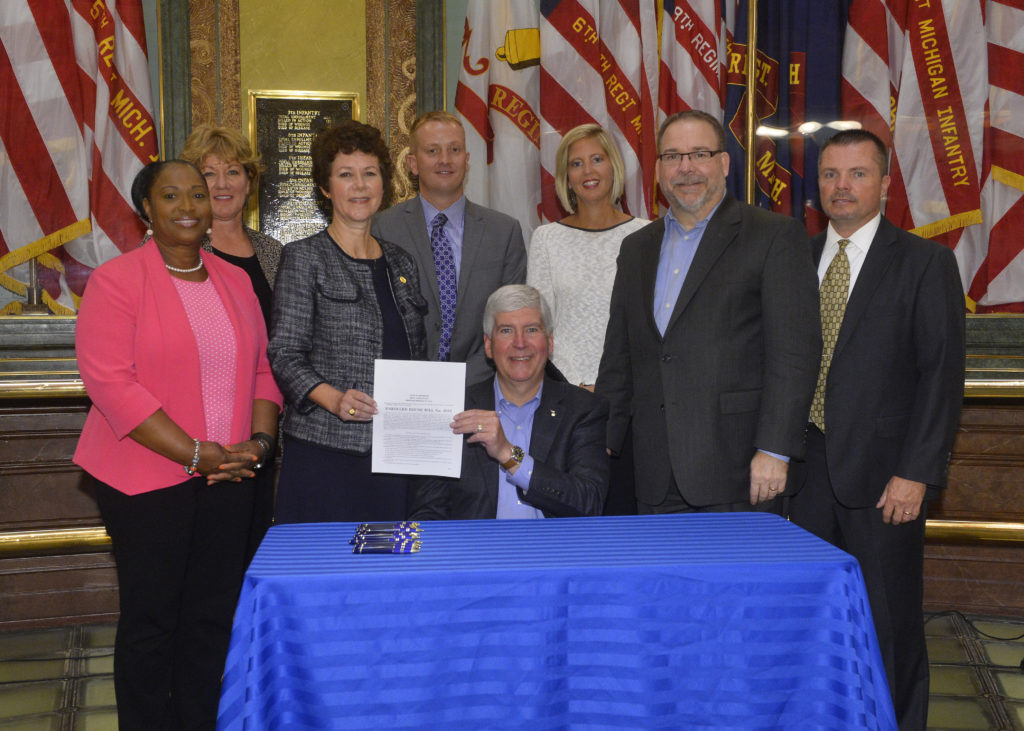 I was invited to the signing of the 3rd Grade Reading bill (HB 4822) in Lansing last week. This bill has been debated for over two years. Most of the disagreement centered around holding back students in 3rd grade if they were below grade level. With the spotlight on that issue, the main components of the bill - which focused on improving literacy - were overshadowed.
Putting politics aside, this bill has the potential to improve literacy in Michigan. It fits with our goal of contributing to a highly literate society, providing teachers and students with tools to make this possible. From our experience with EBLI, we know that if teachers are given the tools, training, and support they need to provide effective literacy instruction to their students, the holding back issue will be a moot point!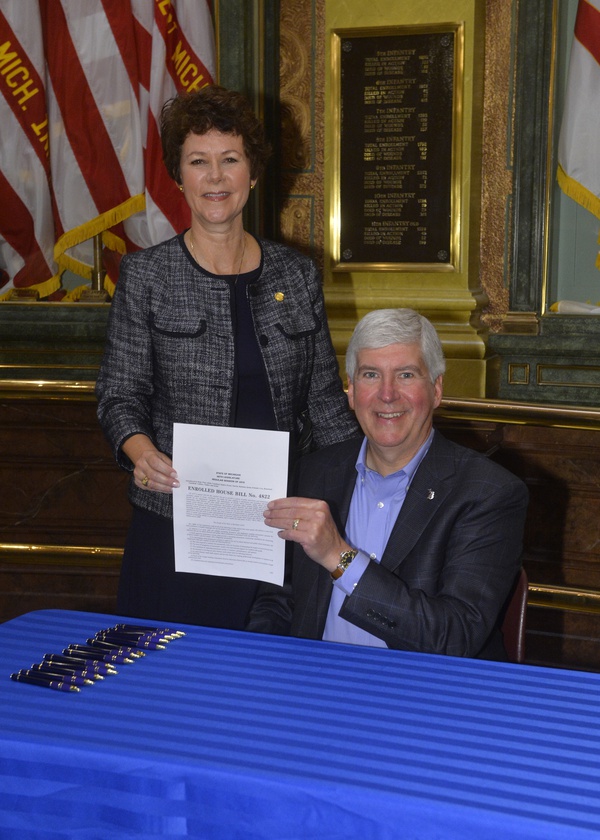 My favorite part of what is in this bill can be found in the points under #3 that describe the instruction that needs to take place. It requires systematic, explicit, multi-sensory, sequential instruction in phonemic awareness, phonics, vocabulary, fluency, and comprehension with guided practice and focused error correction. It's like they took this right off the PowerPoint from EBLI training!
There have already been schools that have taken advantage of the Additional Instructional Time grant for EBLI training and coaching. Of the $26 million allocated to the components in the bill, $17.5 million for Additional Instructional Time is available now (deadline Oct 21st, 2016 for applications) for schools as well as $950,000 for focused professional development for K-3 reading instruction.  The remainder is earmarked for diagnostic screening assessments ($5.5 million) and literacy coaches ($3 million).
This article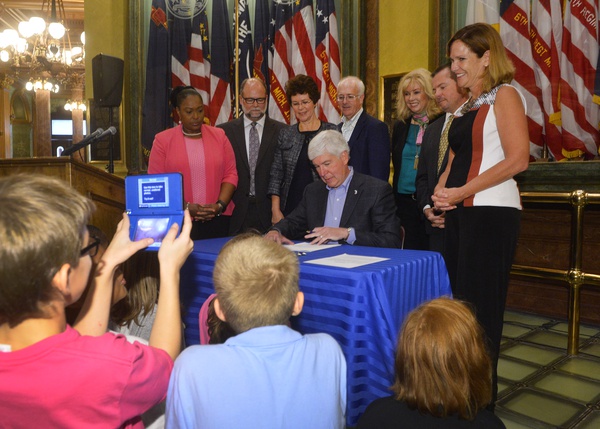 laments that $26 million isn't enough money. Oddly enough, previous funding for the additional instructional time grants was suspended in May by the MDE because of lack of participation. Every district in Michigan had money available that they could have applied for, but very few did. I'm hopeful that that won't be the case going forward!
I was honored to observe the signing of this reading bill because, with Michigan currently ranked in the bottom third nationally in reading, the benefits stemming from the bill have the potential to make a difference for students. When students are sub-literate, the best question to ask is: What do we need to do differently?
We have an obligation to our children to teach them and not blame them for their reading difficulties. If they aren't learning, we need to teach differently. The current practices of either holding them back and teaching the same thing or pushing them through to eventually become sub-literate or illiterate adults are not acceptable choices. Teach them in a way that works. That is the only honorable choice!
This reminds me of the first book I read in nursing school. The Cry and The Covenant is based on the life of a doctor in the 1850s who discovered that if doctors washed their hands between deliveries, the fatality rate of mothers decreased from 30% to almost 0. His colleagues were incensed, believing the mothers were dying because they were weak. Dr. Semmelweis was fired, excommunicated from his country, and eventually committed to an insane asylum. Doctors didn't begin washing their hands between patients for another 50 years. Our society can't afford to waste that kind of time with our children's literacy and our teachers' energy.
The recently passed legislation dovetails beautifully with EBLI's mission to teach the world to read. If you want to know more about EBLI or have questions about how your school or district can access EBLI training, please contact us. We are passionate about helping not just 3rd graders but learners of all ages reach their highest potential in reading, writing, and spelling!
Remember to sign up for our mailing list to receive EBLI updates and blog posts right in your inbox.
As always, THANK YOU for reading, commenting, sharing, and being an integral part of the EBLI community!