The Reading League: Literacy Warriors Unite
"Be the change that you wish to see in the world." - Mahatma Gandhi
by Nora Chahbazi
On March 10th, 2016, I traveled to New York for 36 hours in order to attend the 2nd event of The Reading League. A while back, John Corcoran introduced me to The Reading League founder Maria Murray. For years John's book, The Teacher Who Couldn't Read, has been required reading for students in her undergrad education classes at SUNY Oswego, where she is a literacy professor. Maria is also a published reading researcher.
After talking to Maria on the phone and reading about what she was doing with The Reading League, I was so excited and knew I just had to go to Syracuse for the March event. In this blog I'll share about the experience and what I learned. I encourage you to

sign up

(no charge) to become part of The Reading League movement and contribute to as well as enjoy the benefits of the organization.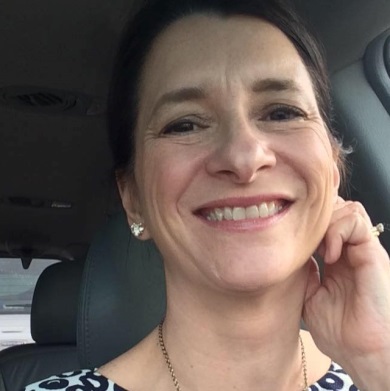 You may be asking yourself: Why would Nora fly to New York for an event that would last only a few hours?

My answer: Hope. That's why. Hearing about this newly formed literacy organization, their altruistic goals, and their very well attended events gave me hope. Hope because there are others devoting their time and energy to the mission of literacy for all, asking for nothing in return. Hope that teachers would have greater access to literacy instructional practices that work. Hope that students would be taught to accurately and successfully read, write, and spell.

Hope that looking at the issue of illiteracy or sub-literacy will be met with the question What do WE (me included) need to do differently? as opposed to labeling, decreasing expectations, and/or blaming students for their deficiencies. Hope because there was a large group of people looking to promote and provide solutions that work. Hope for the desire to discontinue 'admiring the problem' and/or try to fix it using the same methodology that has been proven, over the years, to be ineffective for many or even most learners. Hope. That is what drove me to take time and energy (both greatly depleted in my life currently) and fly to New York for this event with people I had never met.

The following sentence from The Reading League's mission statement intrigued me for many reasons:
"Through bi-monthly meetings and the use of networking, social media, and professional development, the Reading League will support schools and communities in increasing awareness, understanding, acceptance, and use of evidence-based reading practices."
First, the intention to use the people in the trenches as part of the solution and using social media to spread the word is brilliant. Also, they intend to support educators and communities (and ultimately students) by increasing awareness and understanding. Most importantly, they are dedicated to 'increasing the use of evidence-based reading practices'. This organization was created to be about the highest good of the children, the learners, the teachers...not about the power or politics of the system. They get it and I want to be surrounded by the energy and the people who support THAT!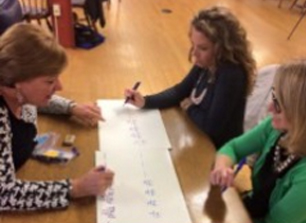 The Reading League event was held at a community library from 6-8:30 pm. We arrived early and I got to share some EBLI with a few of the board members. They were enthralled and, in their words, their minds were blown! Once the event started, there was a standing (and floor sitting) room only crowd.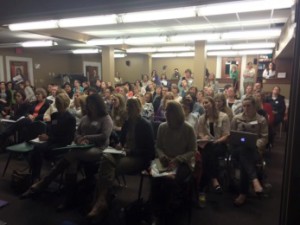 Maria and Reading League board member Kristen Munger (Associate Dean at SUNY Oswego's School of Education) presented first, discussing reading and listening comprehension and working backwards to the components necessary to accomplish these complicated tasks.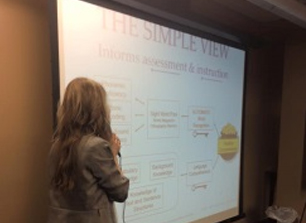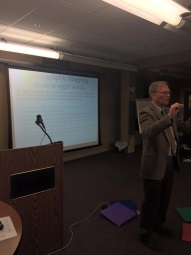 Next David Kilpatrick, author of Essentials of Assessing, Preventing, and Overcoming Reading Difficulties, spoke about the importance of phonological and phoneme awareness, especially phoneme manipulation. I'd read his book. At first I panicked at his discussion about sight words then soon realized (thankfully) that he was NOT talking about sight words in the traditional manner of the 'irregular, high frequency' words that are memorized on flash cards.

I was intrigued by the information he shared about orthographic mapping and how students move from 'sounding out words' to automatically knowing the word, which can appear as if they have visually memorized it…when they haven't. This explanation is beneficial to share with the multitudes of educators who believe that sounding out words hinders fluency, which is inaccurate and actually backwards. Typically, one to four repetitions at sounding out words results in committing the word to memory. That is why good, automatic readers do not sound out known words while reading connected text but their knowledge of the English alphabetic code and ability to sound out words leads to them becoming good, automatic readers. I'm simplifying, of course, but you can read the book to get the whole picture!

We also got to learn about phoneme manipulation assessments and how to go about giving them. I was even the guinea pig student! I have given the Rosner test (a phonemic awareness assessment) to hundreds of students and love that stuff so I enjoyed David's rapid-fire assessment delivery style.

I had some questions about the potential difficulty of giving this assessment and teaching the activities to students. When I train teachers, typically more than half the trainees struggle themselves with segmenting (a precursor to phoneme manipulation) so I'm aware that this could be a roadblock to success with assessing and teaching these activities. I enjoyed talking about this with both David and Maria after the event and greatly appreciated their openness to discussing it and brainstorming about addressing it. To me, this was an example of the 'increasing understanding and acceptance' part of their mission statement. Everyone there was open to expanded thinking for the greater good of all. The evening certainly expanded my thinking!

a
The Reading League is a beacon of hope for all of us. We can share our knowledge and experiences and be open to the same from others. We can continue to learn and refine until we obliterate illiteracy and sub-literacy. Do you think that goal is a possibility? I do!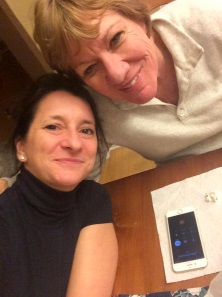 Maria and I had a conference call with John Corcoran after the meeting to share what had transpired (that's him on speaker phone!). Within 2 hours of the event we had coast to coast literacy warriors, hailing from California, Michigan, and New York, brainstorming on how to do more, do better, do faster. This was just months after the organization began. Imagine what is possible when we all ban together, pool our knowledge and resources, and create a tsunami of effective, efficient literacy instruction for every educator, learner, community member, politician, and parent who wants it. Now that's what I'm hopeful about! I'm also hopeful that you will join us in expanding this tsunami.

A mission of this magnitude wouldn't be possible without taking action; I urge you to get involved!  Click here to become a member of The Reading League, increase the power of it, and enjoy riding the wave! Please forward this to anyone you know who would also like to be a part of this exciting organization.  If you have questions, please comment below.

Sign up for our mailing list to receive our blog posts in your inbox every 2-3 weeks.

As always, THANK YOU for reading, commenting, sharing, and being an integral part of the EBLI community!

Be the change!  Please share by clicking the buttons below.