Providing Individual Literacy Instruction for Learners of All Ages

Ounce of Prevention Reading Center opened its doors in June of 1999. Since its inception, the staff at OOPRC has worked 1:1 with 20-50 clients per week, ranging in age from pre-school to senior citizens. At the center, we provide individual EBLI instruction to assist learners in becoming proficient readers, spellers, and writers. Clients typically experience significant gains in 12-24 hours of instruction; our 2-6 hours of ACT/SAT prep instruction have consistently resulted in students increasing their composite ACT scores an average of 2 points. Cognitive processing activities are infused into all instruction. EBLI has been taught to learners ranging from preschool to senior citizens, from special education students to valedictorians to PhD candidates.
EBLI instruction results in dramatically improving reading accuracy, fluency, and comprehension. Interactive Metronome Therapy (www.interactivemetronome.com) is also offered at the center and typically results in improved reading ability, memory, processing speed, sequencing, and attention. Word-of-mouth referrals from satisfied parents, teachers, and administrators have always been the main source of advertising for the center.  The center is continuously serving new clients and celebrating the progress of those who no longer need assistance. Our dedicated staff has worked with hundreds of students of all ages; we continuously refine what we teach based on research-based strategies and information that is found to be effective with students.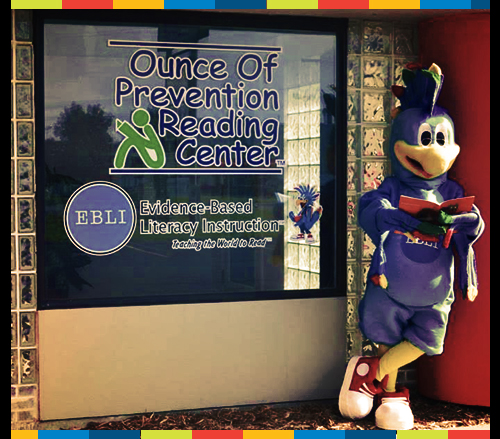 The staff at Ounce of Prevention Reading Center is motivated by a mission to respectfully, effectively, and efficiently educate learners of all ages to reach their highest potential in reading and all area of academics. We intend to serve those who are drawn to our center in a way that respects their dignity and enhances their lives.
To learn more about Ounce of Prevention Reading Center, call us at 810.732.4810 or email info@ebli.com
---
Gains that you can see - Click charts to enlarge
**Results based on an average of 9.5 hours of instruction - Updated 9/2016