---
Owen the Office Dog
A Day in the Life
by Nora Chahbazi
3-year-old Helena runs to the back door of Ounce of Prevention Reading Center (OOPRC), looking up anxiously. She stands on her toes as she tries to see who's coming inside. When she realizes that it's just me, her face falls. She slowly walks back to the observation room where her grandma is watching her older brother receive EBLI instruction from Shannon.
Fifteen minutes later, the door opens once more. Again, Helena runs to the door. This time a huge grin covers her face when she's greeted by a bundle of energy with a wagging tail. Giggles escape as her face is covered with puppy kisses. Delighted, she runs back in to announce to her grandma, "Owen's here!"
Owen – a Gordon Setter who belongs to our Training Coordinator, LouCyndra – has been a staple at OOPRC since the summer of 2014. He is beloved by staff and clients alike. Even our deliveryman has a soft spot for Owen, and brings in his own treats whenever he visits.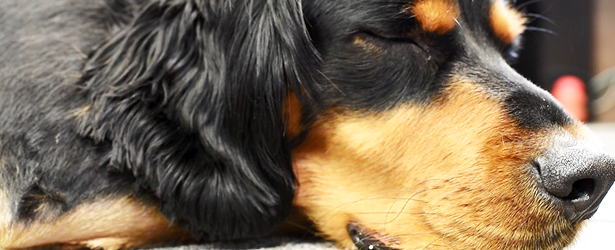 Owen brightens up our world with his sweet energy and big brown eyes. He makes his rounds every morning, stopping in to all the offices to say hello.
Best of all, however, is the impact Owen has on our clients and visitors. He has a calming effect on students and they are even more excited about coming to OOPRC because of him.
So, what does a day at the office look like for Owen?
Accompanying learners
Owen loves hanging out in the reading rooms with students as they receive their EBLI instruction. Added bonus: they love having him there!
Greeting people at the door
Everyone who walks in gets to experience the tail wagging, barking, excited blur that is Owen running up to greet them.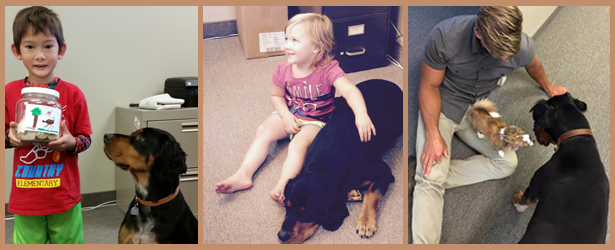 Cuddling
Many a student can be found snuggling up to Owen as he's taking his morning (or lunchtime or afternoon) nap. He prefers the spot next to the copy machine.
Sharing lunch
Owen will become your best friend whenever you're heating up lunch. It's very difficult not to share when he looks right at you with those big brown eyes!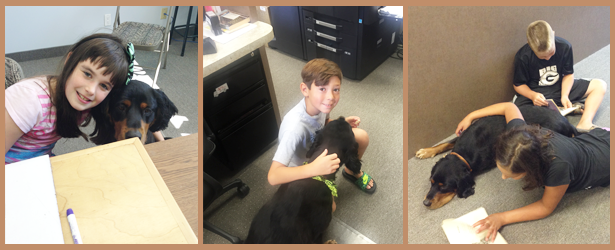 Getting lots of treats
Whether they be lunch scraps or homemade dog biscuits made by one of our clients, Owen typically gets many treats in a day. He works for them, though – he's great at shaking hands.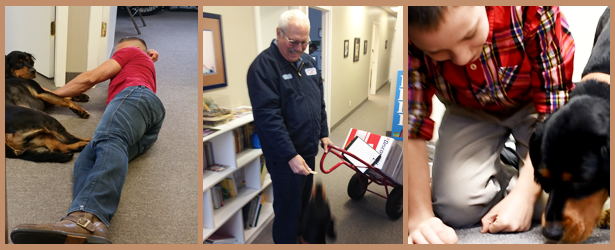 If you've had the pleasure of meeting our wonderful and uplifting furry friend in person, I encourage you to share your favorite Owen story in the comments below. If not, stop by OOPRC sometime. He'll meet you at the door!
Sign up for our mailing list to receive more stories like Owen's in your inbox.
As always, THANK YOU for reading, commenting, sharing, and being an integral part of the EBLI community!
Please share by clicking the buttons below if you know of others who would enjoy Owen's story.