---
What Exactly is EBLI?
by Nora Chahbazi
Often I'm asked what EBLI is, how it differs from other instruction, and what it looks like when taught. The intention of this blog post is to give you a basic, foundational understanding of and exposure to EBLI.
These documents, How is EBLI Different and Why EBLI?, will give you additional insight into EBLI. This video is powerful as you can listen to administrators, educators, parents, and students (people other than me!) discussing their experiences with EBLI. It's worth taking 3 minutes to watch!
To get an overview of what EBLI instruction looks like with students, check out the EBLI in Action video below.
What Exactly is EBLI?
EBLI consists of an explicit, systematic process of teaching literacy skills – reading, writing, and spelling – that assist learners of any age or ability level to reach their highest potential in these areas.
Those trained in EBLI learn how to teach the skills, information, and strategies necessary to help students unlock the complex English alphabet code so they can use it to read and spell.
When trainees teach EBLI with fidelity, their students quickly learn how to read, write, and spell accurately and automatically. These students are then able to apply what they have learned whenever these literacy skills need to be used in school or in life.

EBLI instruction includes the research-based 5 Essential Components of Reading:
Phonemic awareness
Phonics
Fluency
Vocabulary
Comprehension
EBLI also includes instruction in:
Handwriting
Spelling
Writing
EBLI teaches educators the theory of all these components. More importantly, EBLI training provides teachers with practice delivering these components through EBLI activities and we provide ongoing support to teachers beyond the training. They are given a solid bridge from research-based theory to engaging, effective practice with students in their classroom.

The 5 essential components of reading have been taught with many other programs and systems, especially during the implementation of No Child Left Behind that started in 2001. However, even with over a decade of implementation that included billions of dollars of funding, extensive teacher training, and heavy use of literacy coaches, 3rd grade reading scores improved a measly 6%, from 29% proficient to 35% proficient.
Teachers were taught the theory but were not explicitly given effective instructional practices and activities to bridge the theory with practice that could be effectively used with students.  Both teachers and students worked very hard for minimal gains.
EBLI fills this gap, understanding that delivering prefabricated materials or                                  worksheets does not teach students how to read;                            TEACHERS
 teach students how to read!
The focus of EBLI is on providing teachers with practical, applicable, effective, engaging, multi-sensory instructional practices and lessons so their students quickly become accurate readers, writers, and spellers. Precious few prefabricated materials - besides books, whiteboards, and markers - are utilized with EBLI instruction.

Following is a list of the components included in EBLI instruction. Some have links to videos as they are more easily described by showing rather than telling:
In English, 1, 2, 3, or 4 letters can spell a sound (eliminate the need for phonics rules)
Segmenting sounds, blending sounds, deleting sounds
Multi-syllable strategy for accurately reading longer words (no syllable rules)
Reading sight words by sound (no whole word memorizing)
Fluency training with unfamiliar text
Vocabulary instruction
Comprehension strategies, especially summarizing
Writing using correct spelling, punctuation, capitalization, and conventions (starting in K)
Immediate error correction
Behavioral management
Student engagement
Multi-sensory instruction (few worksheets)
Explicit instruction then application through reading and writing (no drill)
Cognitive processing embedded in EBLI activities to train: attention, planning, focus, sequencing, simultaneous processing, processing speed, timing and rhythm, motor planning, motor control
Reading
Writing
EBLI is a simple concept but teaching it requires effort, especially at first, and an open mind.
Learning and teaching EBLI requires a paradigm shift for teachers and administrators as the instruction differs significantly from what they have previously learned and how they have previously taught. Explicit instruction, teacher and student engagement, differentiating instruction, providing error correction, and ongoing refinement of practice are integral components of EBLI. It is tremendously effective when taught with fidelity.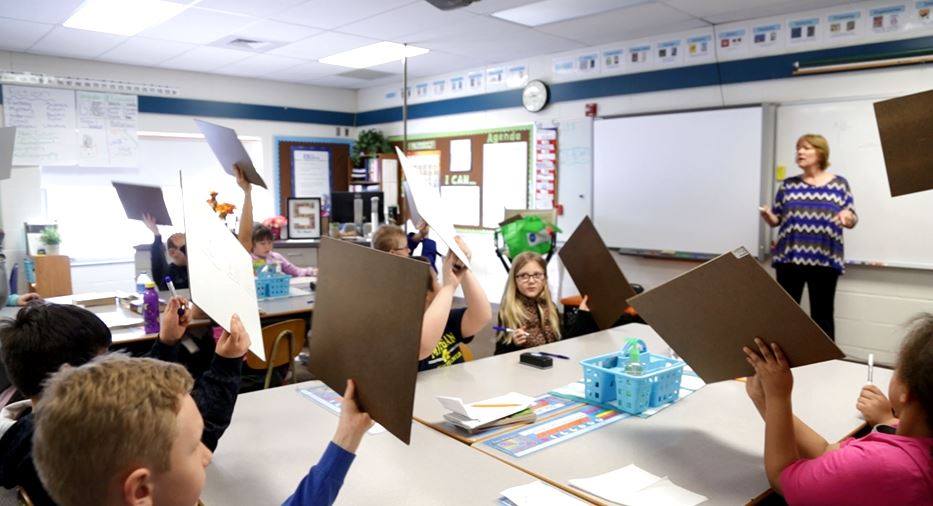 The investment in EBLI is put into training those who then teach it. Educators who are not receptive to change or who are resistant to the idea of EBLI typically do not teach it with fidelity and often don't teach it at all. Their students will make minimal or no gains.
We've trained and supported thousands of EBLI trainees. Many people ask why they have never heard of EBLI. We don't actively advertise or market by approaching schools or districts to try to convince them to use EBLI. The spread of EBLI is organic.  Typically EBLI is discovered through an internet search by those interested in change that will improve their student's literacy skills and their district's reading scores or by word of mouth from others who have heard of or taught EBLI.
Our experience of teaching EBLI to thousands of educators and tens of thousands of students of all ages and ability levels has provided us with ample opportunity to continue to refine our practice.
We know that if a person can talk then we can teach them to read using EBLI. My focus the past several years has been on continuing to refine EBLI so that teachers can more easily implement it with fidelity. We have made huge strides in this thanks to our experiences in classrooms and at our reading center as well as by receiving feedback from EBLI teachers. This has resulted in a more comfortable transition for those teaching EBLI.

Read some of our previous posts to learn about turnarounds of Amazing EBLI schools and more. Our EBLI results page has examples of gains schools have made using EBLI.
Feel free to ask questions or share your input in the comments section below. I never tire of interacting about EBLI and using it to help make life easier for teachers, parents, and students!
Sign up for our mailing list to receive future blog posts in your inbox.
As always, THANK YOU for reading, commenting, sharing, and being an integral part of the EBLI community!
Please share if you think of others who could benefit from learning about EBLI.